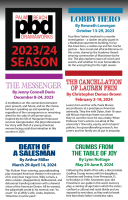 CLICK HERE TO PURCHASE A SUBSCRIPTION!
---
LOBBY HERO
By Kenneth Lonergan
October 13-29, 2023
Four New Yorkers involved in a murder investigation - a slacker security guard in a Manhattan apartment building, his by-the-book boss, a rookie cop and her macho partner - face moral and ethical dilemmas in this comic drama by the Academy Award-winning screenwriter of Manchester by the Sea. This play explores issues of racism and sexism, and whether it's ever honorable to do the wrong thing for the right reason.
THE MESSENGER - World Premiere
By Jenny Connell Davis
December 8-24, 2023
A meditation on the connections between past, present, and future, and on the choice between speaking up and speaking out regardless of the consequences or remaining silent for the sake of self-preservation. Inspired by the life of Hungarian Holocaust survivor Georgia Gabor, the play interweaves her story with that of a young American woman facing racial discrimination in this country in 2020.

THE CANCELLATION OF LAUREN FEIN - World Premiere
By Christopher Demos-Brown
February 2-28, 2024
Lauren Fein and her wife, Paola Munoz, are professors at a prestigious American university. They live with Dylan, their 16-year-old African American foster son whom they've cared for since he was a baby. When Professor Fein's actions run afoul of the university's "diversity, equity, and inclusion" policies, her groundbreaking research, her career, and her family are all put in danger.
DEATH OF A SALESMAN
By Arthur Miller
March 29-April 14, 2024
This Pulitzer Prize-winning, groundbreaking play changed American theatre in the person of its everyman tragic hero, Willy Loman, a dime a dozen, disappointed, disillusioned, and delusional traveling salesman with a skewed vision of the American Dream. All he wanted, the playwright wrote in his memoir, was "to count." Or as Willy's wife, Linda, implores, "Attention must be paid."
TRYING
By Joanna Glass
May 24-June 9, 2024
In 1967, feisty Sarah Schorr, a 25-year-old from rural Canada, goes to work as secretary for 81-year-old Francis Biddle, the patrician former US Attorney General. The brilliant Biddle is now frail, sometimes befuddled, and always irascible. Inspired by the playwright's experiences as Biddle's secretary, the piece is a tender yet unsentimental portrait of two disparate people navigating their vast differences to form a bond of mutual admiration, consideration, and respect.