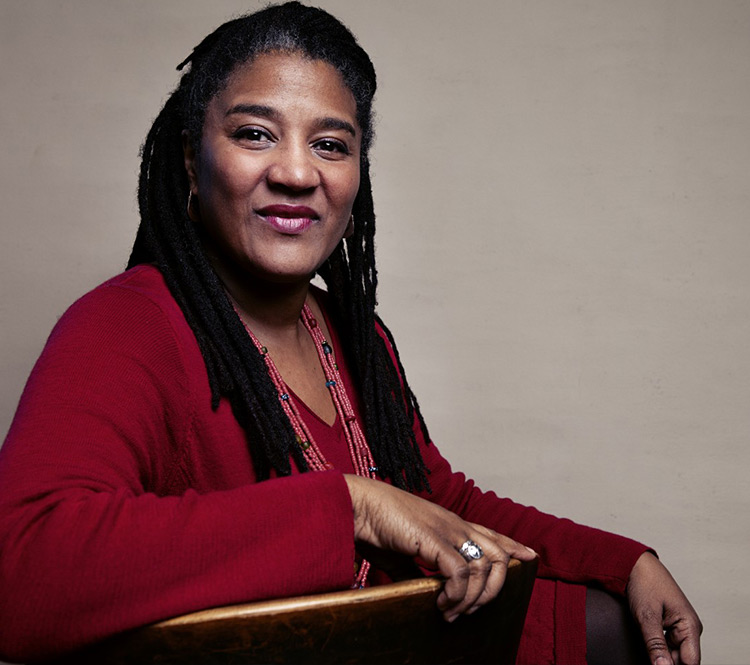 Lynn Nottage
Lynn Nottage was born in the Boerum Hill section of Brooklyn in 1964. Her mother was a teacher, her father was a social worker. Nottage and her husband, filmmaker Tony Gerber, have two children and live in the brownstone where Lynn grew up.
One of her neighbors was Jonathan Lethem, who would later write the novel The Fortress of Solitude, a fictionalized version of their neighborhood. Lynn's brother, Aaron, now an attorney with the Brooklyn DA's office, was the inspiration for one of the characters in the book.
Nottage attended the High School of Music and Art, then went to Brown University on a scholarship as a pre-med student. "I was very good at mathematics," she said in an interview with Mark Lamos at Westport County Playhouse, adding that she was "tracked" into becoming a doctor. "But I never wanted to be a doctor." After two years, she switched to creative writing and American literature.
In her senior year, she studied with Paula Vogel, who encouraged her to apply to the Yale School of Drama. She said in the interview with Lamos that until she met Vogel, she didn't know it was possible to have a career as a playwright. Ironically, she and Vogel, whom she considers a mentor, made it to Broadway for the first time a month apart in 2017, Nottage with her Pulitzer Prize-winning Sweat and Vogel with Indecent. Both their plays were nominated for the Tony Award, but lost to Oslo.
Nottage worked as a dresser on August Wilson's The Piano Lesson when it previewed at Yale.
After receiving her MFA in playwriting in 1989, Nottage took a detour from theatre. She said in an interview at the Guthrie Theater that New Haven had been hit hard by the crack epidemic, the AIDS crisis was raging, and she "wanted to be involved with something that was more urgent and purposeful [than theatre] and that was engaged with what was happening in the moment." She spent the next four years as national press officer for Amnesty International (AI), and says it was "in some ways the most informative experience I ever had."
While working at AI, Nottage realized that she missed playwriting. She said at the Guthrie that she found her way back after seeing photos taken by Donna Ferrato of women "just as they were leaving abusive situations and arriving at a shelter." Frustrated that "at the time, as an organization, we really couldn't deal with women's rights on the domestic front," she wrote a 10-minute play called Poof!, in which a woman tells her abusive husband to go to hell, and he spontaneously combusts. She sent the piece to a playwriting competition at the Actors Theater of Louisville, where it premiered and won the Heideman Award in 1993.
"As a writer, my primary interest has been exploring the stories of folks who are marginalized," Nottage said in an American Masters podcast. "I think that has a lot to do with who I am. I'm an African-American woman who came of age at a time when many people didn't place great value on the stories that I had to tell."
Before she begins most of her plays, Nottage spends a considerable amount of time doing research. For Sweat, her research took two and a half years.
She often says that her motto is "Replace judgment with curiosity."
Nottage is the only woman to have twice won the Pulitzer Prize for Drama. She received the award in 2009 for Ruined and 2017 for Sweat. She is also the recipient of a 2007 MacArthur Foundation Fellowship, often referred to as the "genius grant."
Intimate Apparel (2003) was inspired by a passport photo of her great-grandmother. In the American Masters podcast, Nottage said of Intimate Apparel, "I consider it to be a breakthrough play because for the first time I was able as a writer just to access an emotional side of myself that I had never felt comfortable exploring."
Nottage discovered the photo when cleaning out her grandmother's house following her death. She told American Masters, "I'd never seen this woman before. I didn't even know her name. I knew nothing about her, and that made me profoundly sad." By then, Nottage's mother had also passed away, and there was no one left who could provide Lynn with family history. All she knew was that her great-grandmother had been a seamstress at the turn of the 20th century. So she spent hours at the New York Public Library, learning about the world in which her great-grandmother lived. Nottage said she was "trying to reconstruct my past." Although she couldn't do that, Intimate Apparel "is a story inspired by my ancestors."
Viola Davis won a 2004 Drama Desk Award for her portrayal of the seamstress, Esther.
In the interview she did at the Guthrie, Nottage was asked to make the argument for why theatre is important. "It's a community," she said. "It's an opportunity for us to breathe the same air and exchange energy and to have a really dynamic, vital conversation in ways that we can't do in any other forum. . . . Theatre is one of the few places that we really get to process our American narrative."